Girls/Women's Baseball Information
---
Congratulations to the Team Alberta 14U Girls on their Silver Medal at the Western Championships in Saskatoon, SK

Congratulations to the Team Alberta 16U Girls for their Silver Medal win at the 16U Invitational Championship in Bedford, NS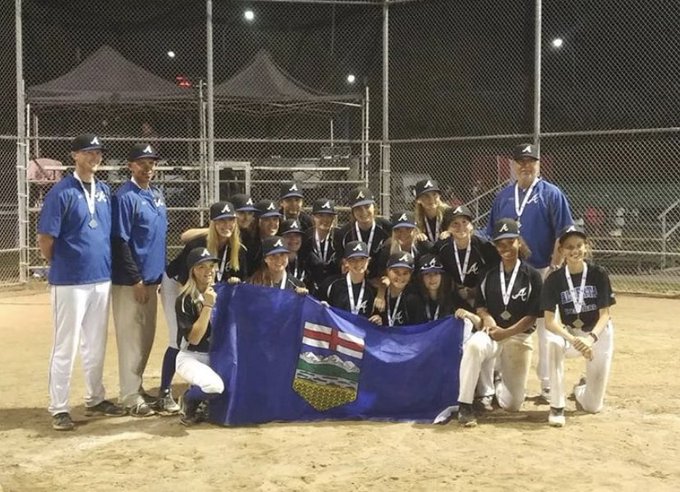 Congratulations to the Team Alberta Senior Women for their Bronze Medal win at the Womens Invitational Championship in Okotoks, AB

Baseball Alberta Announces Cancelation of 12U Girls Provincial Tournament
Baseball Alberta continues to make progress in attracting and developing female athletes in baseball. One of the initiatives that we hoped to implement this year was organizing tournaments at the 9U and 12U age categories for all female participating teams. Despite our very best efforts, we regret to announce that the 12U Girls Provincial Tournament has been cancelled. This cancellation is simply because we did not have enough committed all-female teams from our Member Associations to be able to proceed.
We understand that there are several female players and their families that will be as disappointed by this news as we are. We encourage these families to work with their local Associations to provide the volunteers and support needed to help them ensure that a strong female baseball program is available in the community. Baseball at any level, including Girls Baseball, is only possible with the drive and determination of the committed volunteers that we are so fortunate to have in our sport.
We intend to try to organize a tournament for the 12U Girls again next season at the beginning of July. Please contact your local Baseball Alberta Member Association and ask how you can help them make this tournament a success in 2020.
Girls/Women's Team Alberta Rosters 2019
14U Team Alberta

16U Team Alberta

Senior Women's Team Alberta

Sadie Jespersen
Haylee Sidor
Haylee Sidor
Megan Longmuir
Alexis Hogan
Helaina Appleyard
Taylor Breen
Brynlee Rice
Cydnie Moore
Chloe Ramsay
Morgan Knisely
Maddie Quartley
Julianna Scott
Sydney Smith
Sam Ostrum
Danielle Waiting
Andi Suhai
McKinlee Kulbach
Ava Greiner
Zelaya Downs
Madison Willan
Cora Thomson
Helaina Appleyard
Darcee Hall
Sloane Turner
Shelby Fulton
Hayley Lalor
Devyn Rice
Cydnie Moore
Kelsey Lalor
Kristen Dusterhoff
Madi Quartly
Carrie Jespersen
Sydnie Barry
Tyra Stanich
Robin Jespersen
Ava Weeks
Ellie Jesperson
Ellie Jespersen
Isla Turgeon
Chloe Ramsay
Kaitlyn Ross
Paige Smith

Head Coach: Chris James

Head Coach: Steven Inch

Head Coach: Drew Boyer

Assistant Coach:
Assistant Coach:
Assistant Coaches:

Sheen Bromley

Keith Breen

Geoff Hall

Greg Reiniger

Zach Yuzda

Shane Dawson