Return to Baseball UPDATE - April 6th, 2021
---
---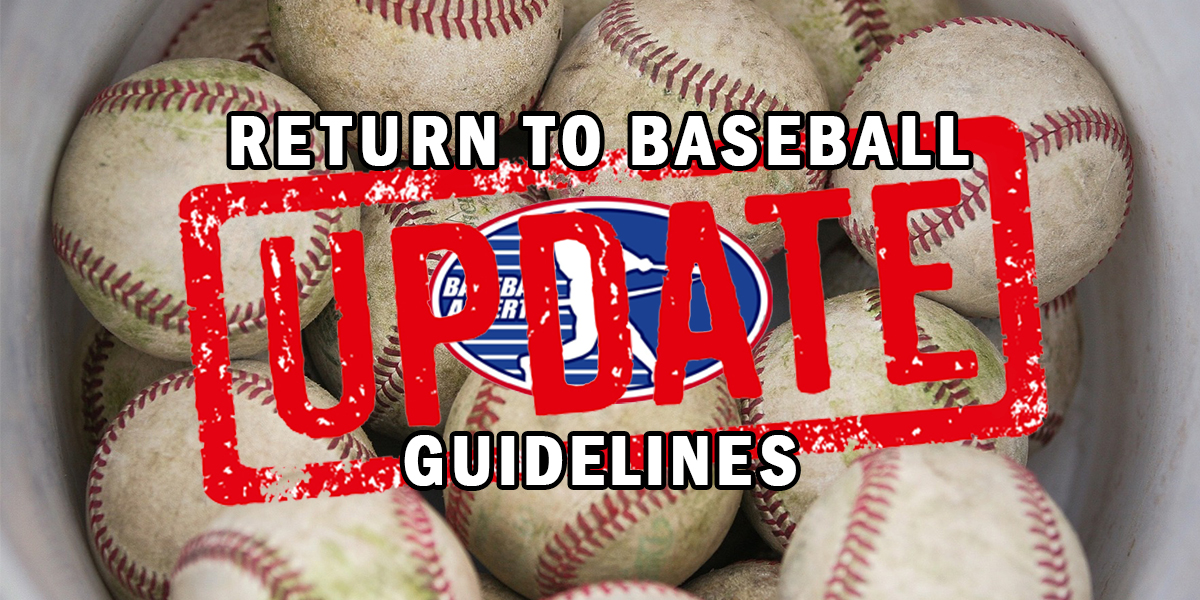 ---
To view the official Return to Baseball Document click HERE - Documents are updated to reflect the latest guidance as of April 9th.
*Document will continue to be updated as more information becomes available.
April 6th, 2021 UPDATE
With the recent AHS announcement on April 6th, Baseball Alberta will be pushing back the Roster Deadline for AA and AAA teams to Monday April 19th.
Youth and Collegiate Sport and Recreation Activities
Mandatory restrictions - Provincewide - Revised April 9th
Eligible participants include:
Youth 18 years old and under
Members of a collegiate or university athletic program, if over 18 years old
Coaches or trainers
Note: 19 Year olds ARE NOT permitted to participate in youth team sport activities until current restrictions are lifted.
Limited group physical activities allowed
Lessons, practices and physical conditioning activities are allowed for indoor and outdoor minor sports/activities and school athletics (for example, school sport activities that are outside of a physical education class or related part of the school curriculum).
Games are not allowed.
Safety requirements
Maximum of 10 total individuals, including all coaches, trainers, and participants per group.

Indoor and outdoor playing surfaces (for example, arena, field, court or swimming pool) may be occupied by more than one youth group, as long as 3-metres of physical distancing can be maintained between groups of 10 and the groups do not intermingle.

Physical distancing must be maintained between participants at all times:

3 metres physical distance for indoor activities
2 metres physical distance for outdoor activities
coaches or trainers may enter physical distancing space for brief interactions with participants (for example, to correct form or technique)

Participants must be masked at all times, except during high intensity physical activity. Coaches and trainers must remain masked at all times.
Access to change rooms must be limited, including accelerated arrival and departure, emergencies (for example, first aid) and washroom use.
One-on-one training is permitted
One-on-one training with a fitness trainer or coach is allowed, with restrictions.
Sessions have to be scheduled or by appointment. No drop-in or groups allowed.
One-on-One Safety requirements:
3 metre physical distancing must be maintained at all times, regardless of the type or intensity of exercise. This includes between pairs of trainers and clients - sessions cannot interact.
2 metre physical distancing is required in all other areas of the facilitly, such as entryways and exits, change rooms, etc.
Trainers must be professional, certified and/or paid trainers who are providing active instruction and correction. Passive supervision of a physical activity is not considered training.
Each trainer can only interact with their assigned client, and each client can only interact with their assigned trainer. No interaction between clients or between trainers is allowed
'Cycling through' multiple trainers (as in circuit training) is not permitted.
Masks must be worn by:

trainers at all times
clients at all times during low intensity exercise - masks are not required during high intensity exercise
The Return to Play guidelines will be available to associations and posted on our website once the current health measures are lifted and we are able to return to baseball gameplay.
For more info from YourAlberta, click HERE